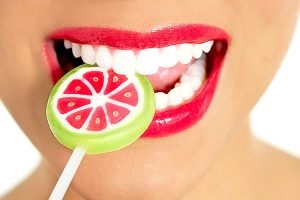 We're trained from childhood to brush, floss, and try to avoid cavities. But preventing dental issues isn't always as simple as keeping your dental hygiene in good order. Hidden factors and aspects of your health can lead to cavities, worn enamel, periodontal disease, and more.
Frequently, our daily habits and decisions can have impact on our dental health and we don't know about it. How many people know that tongue and lip piercings can chip and fracture teeth? When we eat dried fruits how often do we consider the damage they can do to our dental health.
The likely answer is, "not much."
To expand your understanding of threats to your dental health, Simply Smiles dentist offers some tips on what hidden habits may threaten your dental health.
Good Dental Habits Gone Bad
Proper Brushing Technique. You can't just stick a toothbrush in your mouth, grind it over your teeth, then pat yourself on the back for a job well done. Proper brushing requires proper technique. One method is using a soft-bristle toothbrush (at a 45 degree angle to your teeth) and brushing in small circles instead of side to side.
Don't Brush Too Hard. Vigorous brushing can abrade tooth enamel as well as damage and push back the gums, exposing the sensitive root area. Receding gums can lead to dental problems such as periodontal disease and cavities on the roots of the teeth. These, in turn, may lead to the need for treatments such as fillings, root canals, and tooth extraction.
The Wall Street Journal reports that between 10 to 20 percent of the population have damaged their teeth or gums as a result of overbrushing.
Exercise and Dental Health
Do you swim in chlorinated pools often? The chemicals and chlorine in swimming pools have been found to be corrosive to tooth enamel. You do have to have exposure to lot of chlorinated pool water for it to have an effect, but if you spend time in the pool, avoid taking the water into your mouth.
Also, be careful on deck and near the edges of the pool. A surprisingly high number of dental accidents occur in and around swimming pools.
Do you like contact sports? So does Jeff Horn, Australia's new WBO Welterweight Champion (By the way, congratulations Jeff, from all of us here at Simply Smiles Dental!). But he also likes smiling, which is why when he's in the ring he always wears a mouth-guard. If you play any contact sports, your first 'training' step should be to stop by Simply Smiles Dental and get a custom-fitted mouthguard. Play hard, but keep your teeth!
Do you do cardio? You've been working hard in the gym to tone your body and improve your health, but there can be unexpected dental consequences to working out. Athletes have more eroded tooth enamel than people who don't work out.
When you work out, saliva production decreases, causing your mouth to become drier and alkaline levels in your saliva to increase; this boosts your chances of developing cavities. Endurance athletes beware, intense training can be detrimental to oral health.
Bad Dental Habits
Using your teeth as a bottle opener. Many of us have been socialising at a party at the weekend, when someone decides that opening a bottle with their teeth is a great party trick. But, opening a bottle, packet of crisps, or anything else, with your teeth can be extremely damaging as it grinds down your teeth and increases the chances of chipped teeth.
Chewing. Don't chew ice or other tough objects like bones and fruit pits. Teeth don't have good fracture resistance to that kind of force. Ice also has a temperature aspect. If you subject your teeth to wide ranges of hot and cold, they tend to expand and contract very slightly. Even that can be enough to put little micro-cracks in your enamel. You can get away with it in the short term, but the little cracks in your teeth build up and one day, a piece of tooth might just break off.
This also goes for things we chew on absent-mindedly, like pens and pencils. If you have a strong desire to chew, invest in some sugar-free gum!
Your Trusted Dentist in Toorak
At Simply Smiles Dental, we aim to give you the smile and dental health of your dreams, without a hint of anxiety or pain.
Our office is in Toorak Village and serves patients from Toorak, South Yarra, Prahran, Windsor, Southbank, South Melbourne, Port Melbourne, Malvern, Albert Park, Melbourne CBD, and other metro areas.
We are a Medibank and HCF Members Choice Dentist as well as an HCF Members Choice Dentist.
Special Offer for New Patients
No Gap for Checkup and Clean for Medibank, BUPA, HCF and CBHS
For more offers, visit our special offers page. 
Contact us on (03) 9826 2220 or request an appointment online.