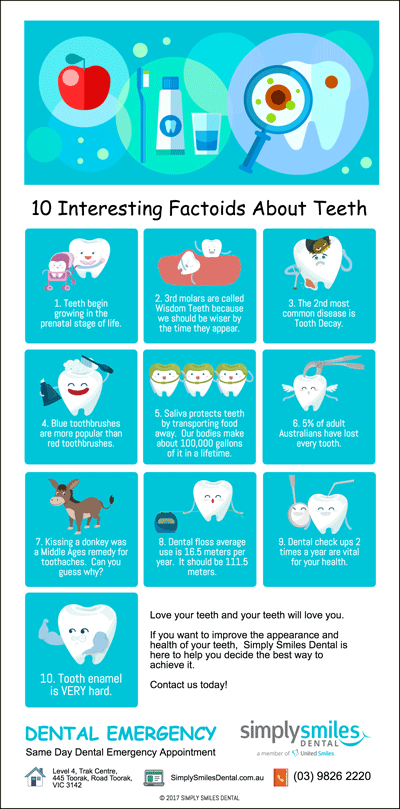 In the high-media, fast paced world we live in, people are bombarded with advertisements and noise. It can be difficult to get away from the stream of interruptions.
In view of that, the doctors at Simply Smiles Dental would like to take a small break from that kind of approach and offer you an amusing diversion with a random (more or less) list of dental "factoids" about teeth – things some people believe that just don't make sense.
Some of the myths that revolve around how to cure a toothache can be quite entertaining.
One of the most amusing myths is that kissing a donkey, or donkey-like critter, can cure a toothache. Utterly false! The only way that this method could be effective is if the donkey managed to kiss out the exact tooth responsible for the toothache.

And donkeys are known to be inexpert kissers! In other words it would never happen. And kissing a donkey is not likely to be fun for you, or for the poor donkey. Don't do it!

Second, some people believe that chewing cloves can cure a toothache. Again, FALSE! However, cloves do contain eugenol, a chemical that actually can cleanse and numb an area. So it is possible that chewing on cloves could offer temporary relief from the pain of a toothache. But the toothache will remain, and a dentist's help will eventually be needed.
Finally, a similar myth, that salt can also be used to treat cavities due to its antiseptic and antibacterial properties. While salt can clean the gums around the problem tooth, kill some bacteria, and provide some pain relief, it does nothing to "cure" or "help" the real problem. The real answer for toothache is to visit your Simply Smiles Dental dentist!
At Simply Smiles Dental, we aim to give you the smile of your dreams for the holidays and year-round, including preventing and treating toothaches.
We are a Medibank and HCF Members Choice Dentist as well as an HCF Members Choice Dentist.
Contact us on (03) 9826 2220 or request an appointment online.
Our Special Offers
At Simply Smiles Dental, our goal is to make quality dental care affordable. To find out more, visit our special offers page today!